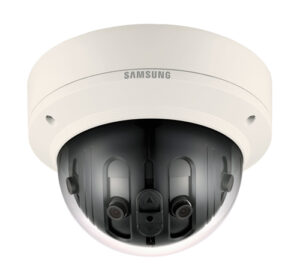 Hanwha Techwin has broadened its Samsung Wisenet P series with the introduction of a 7.3 megapixel 180° panoramic camera.
Designed for monitoring large open areas with one camera, the PNM-9020V is equipped with multi-sensors which enable it to capture seamlessly stitched 180° images; four 2MP images with 3.6mm lenses produce the 180° composite images. This is achieved with the help of a synchronised alignment lever located in the centre of the camera which raises and lowers the sensors in unison to facilitate easy set up.
"The PNM-9020V's high definition and panoramic capabilities means end-users can achieve an exceptionally high return on investment (ROI), as it can perform the work of three or four standard HD cameras and so deliver significant savings on camera purchasing and installation costs," said Tim Biddulph, Head of Product Management for Hanwha Techwin Europe.
In addition to being equipped with digital PTZ, the PNM-9020V, which is IP66 and IK10 rated for vandal-resistance and outdoor use in the harshest environments, shares many features with the four other models in the Wisenet P series. These include Digital Auto Tracking, True Wide Dynamic Range, and Lens Distortion Correction to deliver optimised images. Also provided is bi-directional audio support, privacy masking, a 12VDC,PoE capability and an SD card slot to ensure that video is automatically recorded in the event of network disruption.
Video analytics such as heat map, virtual line, enter/exit and appear/disappear are provided as standard, whilst the open platform DSP chipset built into PNM-9020V provides the flexibility to run edge-based video analytics.
The PNM-9020V also features WiseStream, a complementary compression technology which dynamically controls encoding, balancing quality and compression according to movement in the image. According to the company, bandwidth efficiency is improved by up to 75% compared to current H.264 technology when WiseStream is combined with H.265 compression.