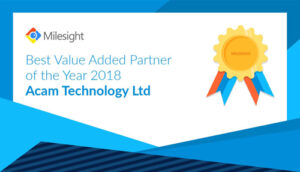 Acam Technology has been awarded Milesight`s Best Value Added Partner of the year Award 2018.
"In a year that Milesight delivered IP cameras and recording solutions to more than 85 countries and regions, to receive this award in recognition of our efforts is a tremendous accolade" says ACAM's Sales Director Dave Watkins
Milesight reported a 48.45% year-on-year revenue growth in 2018 continuing the upward trend with a robust CAGR increase of 68% between 2013 and 2018.
In 2018 Milesight launched a series of new products, such as the 12MP H.265+ 360 Degree Fisheye Camera and new compact Mini Series together with a new OS and file system for their NVR series which also includes support for the analytics available on all cameras.
Another new product launched during 2018, the 12x H.265+ Mini PoE PTZ Bullet Network Camera, was selected No. 1 from the 2018 Top 10 Most Innovative Security Products in China awarded by the CPS Evaluation Laboratory. The assessment was based on the body design, inner structure and overall product performance.