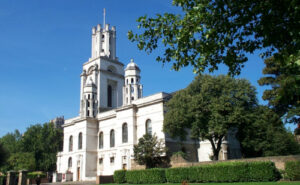 Delta Security has installed a video door entry and intruder alarm system into the vicarage attached to St George in the East Church, for long-standing client, the London Diocesan Fund.
The London Diocesan Fund is responsible for the administration and maintenance of all 420 Church of England parishes located within the M25, comprising approximately 600 properties. It has worked with Delta Security for eight years for its CCTV and access control requirements.
Kenny Cathro, Head of Operational Housing, London Diocesan Fund, says it is vital that church employees feel safe and comfortable in their own homes: "Vicars can receive visitors at any time of day or night, from people organising weddings and funerals to troubled individuals seeking financial and spiritual support. It is therefore important that vicars have full control over who they let into their homes."
A Videx door entry system has been installed at the St George in the East Church vicarage, with an LCD screen that provides clear video footage of who is trying to gain access. The vicar can speak to the visitor via a handset if they wish, or do nothing, without letting the visitor know anyone is home.
Security has been further enhanced with a wireless Visonic intruder alarm system that works with up to 60 wireless devices. Users have remote-access functionality via a specifically-designed app.