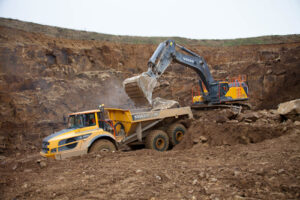 Supplier of construction materials, Myers Group, has invested £200,000 in the install of AI-enabled CCTV systems across its sites, as part of the group's ongoing efforts to upgrade security and boost profits.
The technology, designed, installed and maintained by Centurion Fire & Security, now oversees operations at Myers Group's 19 builders' merchant sites, its three Readymix concrete sites and Johnsons Wellfield stone quarry.
The manufacturer supplies thousands of construction materials to housebuilders, renovators and commercial projects throughout the UK every day meaning that each site deals with high levels of vehicle and footfall traffic.
Paul Bradley, group operations manager at Myers Group, said: "We already had CCTV in place, but it was outdated and unreliable, with many cameras being out-of-action, meaning that we experienced issues surrounding missed health and safety incidents, as well as trespassing.
"We were aware that better technology was available, and that we could improve staff and visitor safety, whilst simultaneously having an immediate and positive impact on the bottom-line."
Centurion designed a network of 335 HD cameras, 22 HD recording units and a PA system, which enables direct communication with any trespassers, to observe the sites and now carries out out-of-hours remote monitoring of the system.
Thermal imaging cameras were also installed at Johnsons Wellfield quarry to capture movements in the large quarry during the night. The AI-learning cameras are able to filter out false alarms and will distinguish between an animal and a human.
Previously, Myers spent £50,000 on security guards per annum.
Paul continued: "The end result is a technologically-advanced system which saves us the annual salaries of security guards; deters thieves and trespassing; and provides us with a paper trail for any health and safety incidents."