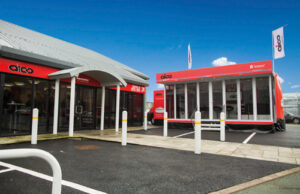 Aico has expanded and enhanced its training and support services for customers.  This includes two new mobile training and demonstration units plus an extended "Centre of Excellence" at Aico's premises in Oswestry.
The new fully fitted mobile training and demonstration vehicles enable the company to provide detailed product and alarm technology information, plus its CPD accredited training to any location.
The internal layout can be configured to meet different requirements, be it a hands on training session with alarms and technologies, a product demonstration, or working on bespoke specification projects.
The "Centre of Excellence", opened in 2015, has been expanded to twice its size. The new extension, officially opened at a launch event in January, houses a dedicated training facility, with a conference room which seats up to 150 people and is kitted out with AV facilities. The workshop allows for 20 people to comfortably attend a hands-on training session and view alarms in action with the use of a smoke chamber. A new wholesaler area, with its imitation trade counter, has been set up to look familiar to wholesalers whilst showing product and merchandise.