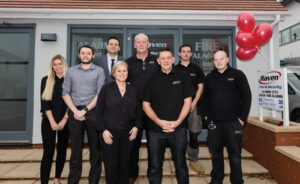 Raven Fire & Security based in North Wales has secured a commercial mortgage from HSBC to acquire its first retail outlet.
The new 1,210 sq ft premises, is set over two storeys and includes a demonstration area where customers will be able to test the alarm systems, a storage area for spare equipment used by regular customers and maintenance contractors and office facilities.
The move comes 14 years after the business, run by father and son duo Paul and Jason Raven, was set up at their home in Prestatyn. The opening of the retail outlet has created four new full-time jobs for the local economy.
Paul Raven said: "We are delighted to have opened our first store as it's been a dream of ours for many years."
Ashley Driver, Head of Centre – Business Banking Direct, commented: "We are delighted to be able to support Raven Fire and Security in opening their first retail outlet. We look forward to seeing the business grow from strength-to-strength and to supporting Paul and Jason Raven's future ambitions."