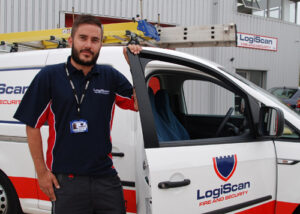 LogiScan Fire and Security has strengthened its team of fire and security engineers with the appointment of experienced industry professional Alfie Binyon who joins the company as a Senior Service Engineer.
He will be covering the Exeter area providing service and maintenance of fire and security equipment for a range of  clients. He will also be responding to fire and security system faults and call-outs.
With knowledge of the design, maintenance, installation and commissioning of fire and security systems, Alfie has spent 14 years in the industry in a variety of engineer roles and has also run his own fire and security business.
"I am looking forward to a new challenge with LogiScan in what is an exciting period for the company with the implementation of the new business development strategy," said Alfie. "I was attracted to the role because of the progressive nature of the business and I am determined to play my part in bringing future success to the company."