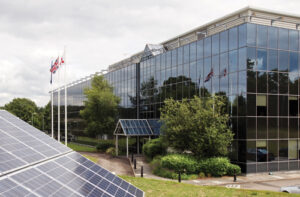 Amthal has been awarded a new support contract with Mitsubishi Electric Europe B.V, to upgrade and maintain security solutions at it UK Head Office, and across its regional UK offices.
Mitsubishi Electric has eight regional offices, including its UK Head Office in Hatfield (pictured), supporting over 700 staff members. The new contract covers the provision of support and maintenance across each of Mitsubishi Electric's sites, to ensure security arrangements, including CCTV, intruder alarm and access control, are maintained and upgraded quickly where required.
Karen Kelsall, Mitsubishi Electric Business Services Team – Facilities Coordinator said: "Each of our UK office locations has its own security arrangements that must be maintained on a regular basis.  We needed to source a reliable company that could not only achieve this requirement but also ensure we continue to offer our staff and visitors complete peace of mind at their place of work.
"Amthal proved themselves even before the contract was signed, responding quickly to several different site requests.  Plus, being a local company to our Head Offices makes a difference to ensuring an efficient and sustainable supplier service, that we look forward to building."
Jamie Allam, Commercial Director Amthal Fire & Security added: "This contract award is extremely significant for Amthal, not only to be associated with such a global brand, but also to demonstrate our commitment to our customers, both new and existing."