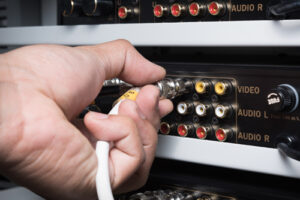 The annual IFSEC event always throws up an unexpected news announcement or reveals a new trend and 2017 was no different. This year, we are apparently seeing sales growth of an old friend…       
For the last ten years or maybe even more (it feels like a long time anyway) we've been told that anytime soon IP cameras will start outselling and then eventually replacing analogue systems at such a rate that the 'older' technology would become obsolete and disappear from the market. Up until recently it did appear that this would soon be the case at last and anyone still insisting on fitting analogue was living on borrowed time, but after talking to a number of people at IFSEC this year it seems that the trend is actually turning full circle. Apparently the sales of analogue cameras is going up – but before you think I've just taken on board the opinion of a handful of analogue centric IP-phobes the people who made these claims (independently of each other) are among the top industry minds when it comes to technology development.
So while the virtues and benefits of networked cameras are widely known it is thought that the mere existence of so much legacy cabling coupled with the ever increasingly capable analogue cameras (there are 4K units now available) is keeping them popular among installers and their customers who simply do not require the bells and whistles of full IP systems. Price is also a commanding factor along with familiarity.
Interestingly another trend that was raised by just about every IP camera vendor at the show also took us back to the heady days of the early millennium when people questioned the security of putting security systems onto networks. You must remember a time when the sceptics said that a closed system (ie a closed circuit installation) was much more secure than one in which a network was involved and that was why IP cameras would not be the future of the industry. Time and sales figures soon went on to prove that IP was indeed the future or so we thought (see previous point) but it has not been until recently, and in particular this year, that the subject of cyber security and IP cameras has come to the fore. Perhaps this is due to the overwhelming number of installations that are IP based and our reliance upon networks for all aspects of modern life today, creating and storing massive amounts of data that, some of which, we would not want to get into the hands of unscrupulous sorts.
However, it is certainly interesting that one of the original concerns about hanging technology on a network should be the major talking point at the very same IFSEC that experts revealed the news that analogue appears to be making a comeback.