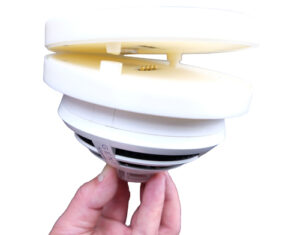 Gent by Honeywell has announced the introduction of its improved S-Quad Anti-Ligature Base (ALD302) which is designed to provide additional safety within buildings that accommodate individuals who are considered to be at risk. The redesign is a direct result of customer feedback and is ideal for environments such as hospitals, prisons, mental health units and other secure facilities that house and support vulnerable people.
When planning the construction or refurbishment of such a facility, it is essential to eliminate points where a cord, rope, or bed sheet can be looped or tied to a fixture in order to create a point of ligature, which may result in self-harm or, in extreme cases, loss of life. Many fittings that would usually be considered perfectly safe pose a risk of ligature, so products need to be modified to maintain the same functionality, yet provide a safe environment. Equally, devices must not offer an opportunity to hide drugs, knives, razor blades or any other items that could be used for self-inflicted damage.
With this in mind, Gent has refined the design of its previous device by incorporating an anti-tamper lip, which ensures that contraband cannot be stored within it. It also has a built in magnetic switch that provides loop continuity even when multiple devices are removed. This ensures full loop integrity without the need for a separate T-Breaker – something that will help reduce the overall cost of installation. As well as being easy to install, it is certified to 6.4kg release load and it is easy to reinstate the device if removed.
The ALD302 has also been verified by the National Offender Management Service (NOMS) – the government body responsible for correctional services in England and Wales.
Simon Foulkes, Product Marketing Manager at Gent, commented: "The protection of vulnerable people is taken incredibly seriously, so when our customers offered suggestions about how the previous S-Quad Anti-Ligature Base could be improved, we instantly set about redesigning it. The result is the ALD302 and I am confident that it will make a valuable contribution to the way that the S-Quad fire detection portfolio can be used within specific environments that accommodate those who are potentially at risk."