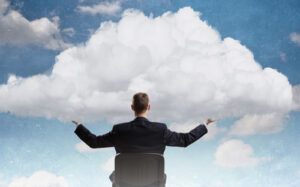 Why the cloud should be in your CCTV armoury to improve efficiency of the installation
Cloud computing has long been credited for delivering greater scalability, reduced costs, and easier access to applications. Industry experts have called it the most disruptive force in the tech market in the last decade, with Forrester declaring that more enterprises will move to the cloud in a big way.
Yet, while many organisations are looking to fully embrace the cloud, some sectors are reluctant to use it for one crucial business function – CCTV surveillance. According to James Wickes, CEO and co-founder at Cloudview, there is a huge base of both analogue and digital CCTV systems out there that can be made far more effective by connecting them to secure cloud-based systems.
"One of the main reasons behind reluctance to utilise the cloud is that the value of cloud-based systems is largely reflected in a monthly charge rather than a single payment by the client for hardware and this messes with the current channel model," says James. "However, it presents a new business opportunity – replacing a one-off payment with a more valuable monthly revenue stream for a service that can be enhanced on an ongoing basis with new features that can be provided to clients via the internet. Furthermore, cloud systems can often be added to existing installations providing clients with greater security and opening the door to new visual data based business applications – breaking out from traditional security."
James continues: "On the other hand, traditional CCTV has its limitations. Most footage is recorded onto "local" NVRs or DVRs and is not easily accessible and storage can be inflexible. Often, if there is a security incident, an authorised person who knows how to use the CCTV equipment has to physically go to where the DVR or NVR is located, find the relevant footage and put it onto a disk or USB stick. This can take many hours (assuming the equipment was working in the first place). If the user is unable to download the footage from their system, the police frequently end up taking the entire recording set up as evidence. All except the most lavish CCTV systems do not provide functional oversight so the hapless user can often find their CCTV equipment is out of order, and there is no recording."
Could it be time for CCTV integrators to review their existing product portfolio and invest in adding cloud-based CCTV systems?
Cloud benefits
The following features are on offer from cloud CCTV service providers and can take visual surveillance well beyond the bounds of conventional CCTV:
Strategic automation – organisations can connect their legacy CCTV to the Internet of Things (IoT), so there's no need to "rip and replace" cameras or cabling. Equipment performance can be monitored and users can be automatically informed of equipment failures. Additionally, such systems can be integrated with external alarm sensors and device actuators. Interactivity with other IoT devices provides the opportunity to create smart environments where security is part of a bigger picture.
Advanced security – the latest cloud systems encrypt CCTV data from end to end and include measures to prevent unauthorised access or hacking. Data from existing analogue or digital CCTV cameras is transmitted securely to the cloud via an encrypted tunnel. Once stored, the data is fully encrypted. Furthermore, the loss of visual data can be prevented as many cloud systems completely negate the need for onsite recording equipment which is prone to theft, damage and mechanical failure.
Functionality – measures can be taken to record only what is required. The recording parameters of individual cameras can be easily adjusted, or cameras may be switched on or off at any time, to ensure compatibility with purpose and meet data protection requirements. Some cloud systems also provide the additional benefit of motion-based recording so visual data is only captured when something relevant is happening. Video and sound can be recorded as separate files to avoid mistaken use. Visual data can be located and then viewed using pre-defined search criteria and parameters to reduce the amount of footage that requires reviewing.
Flexibility – access to visual data by authorised users is instant, allowing issues to be reviewed and effectively responded to. Real time and historic footage can be viewed remotely by authorised users from any location using smartphones, tablets or PCs. Links to original footage can be emailed or footage may be downloaded to provide evidence to the police or other authorities when necessary.
Finally, with the upcoming General Data Protection Regulations (GDPR), integrators will find that a cloud CCTV system will help their customers achieve compliance. This is a major selling point as we all know that CCTV systems present major risks to privacy. Incidents where personal data has been stolen, lost or subject to unauthorised access are now commonplace.
Worryingly, many of these incidents are caused by data being inadequately protected by the organisation storing that data. Companies will need to take the required steps now to ensure their surveillance systems are secure and compliant because, when the GDPR comes into force on 25th May 2018, the consequences of lax data protection will be damaging – with fines of up to €20 million or 4 per cent of global turnover, whichever is higher.
"The bottom line is that it's time for CCTV integrators to catch up with the rest of the IT world in the 21st century and add secure cloud technology to their armoury," says James Wickes. "When correctly implemented, the cloud is an extremely effective and secure method for visual surveillance to protect corporate assets and people. There really aren't any catches so there's no need for users to get caught out, and integrators should be acting now to help them."