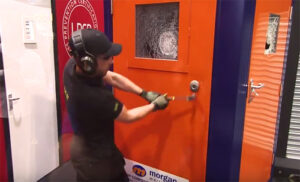 The organisers of IFSEC have announced that in 2018 the event will once again partner BRE Global/LPCB to host the Attack Testing Zone which will demonstrate how the products and solutions that installers are recommending are fit for purpose to safeguard people and property.
Following the successful introduction of the new demonstration zone in 2017, the Attack Testing Zone will be expanded and moved to a prominent position in the Borders & Infrastructure area of IFSEC 2018, providing dramatic demonstrations of the capabilities of security solutions. Technicians from BRE Global/ LPCB will actively demonstrate the effectiveness of a range of physical security solutions being taken to task in real time scenarios. All of the products on display are LPCB Red Book approved and will have met a range of UK and European standards.
Richard Flint, Physical Security Technical and Business Development Manager at BRE Global says: "BRE Global is delighted to once again partner with IFSEC 2018 to continue with the Attack Testing Zone. We were hugely impressed at the volumes and quality of the visiting audience in 2017 and we made sure the IFSEC team expanded and relocated the Zone for 2018- such was the level of interest. It's a unique opportunity for security professionals to see leading products being tested in real time and showcases the levels of security and protection these solutions can provide."
Gerry Dunphy, Brand Director, IFSEC & Firex International says: "The Attack Testing Zone is a great example of where real time demonstrations capture the imagination of the visiting audience and it adds to whole IFSEC experience."
IFSEC International 2018 will take place between 19th and 21st June at London's ExCeL venue and is co-located with Firex International, Safety & Health Expo and the Facilities Show.