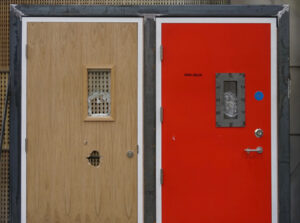 Assa Abloy Security Doors recently held a security testing day in partnership with BRE at its factory in Lisburn, Northern Ireland, at which security professionals witnessed various methods of attack on both steel and timber doorsets.
The event consisted of an overview of the LPS 1175 test standard, a factory tour and a practical demonstration that showed the difference between certified and non-certified security doors.
Ian Broadley, Business Development Manager for Assa Abloy Security Doors said: "We hosted this event to help illustrate the difference between investing in a certificated product versus a product that may look similar visually, but can be compromised very easily when put to the test.
"A test rig was set up at our factory, housing two steels doors and two timber doors. The BRE team used various methods of attack to demonstrate how they were able to defeat the doors that were not built to meet LPS 1175 test standards. We received a great deal of positive feedback from attendees, which included security consultants, end users, police, and government personnel. Attendees commented on how thought-provoking it was to witness just how quickly un-certified doors could be compromised."