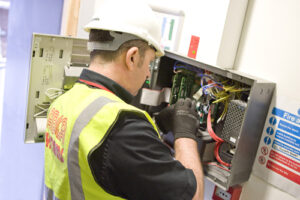 Eaton has announced that it was selected by ABCA Systems to deliver a fire alarm system for accommodation, leisure and retail facility Spring Mews in Vauxhall.
In order to support business continuity, the Spring Mews project required a bespoke fire alarm solution with a range of cause-and-effect programming to meet the differing detection and alarm requirements for each of its facilities, including permanent or temporary accommodation, retail units and business premises.
ABCA Systems chose to install 14 of Eaton's CF3000 addressable control panels throughout the new facilities as a solution to the demands put on it by the diversity of the multiple-use premises.
"We recommended these specific addressable control panels to ABCA Systems due to their functionality with simple operation," added Mike Slater, Sales Account Manager at Eaton. "Additionally, their aesthetically pleasing design fits in perfectly within the new luxury facilities."
In addition to the panels, an array of fire ancillaries were also installed, including a 'bell tone' electronic sounder that was developed for the Spring Mews project.
"The installation process was fast paced and no challenges were encountered during it," said Philip Miller, Managing Director of ABCA Systems. "Although we had a few difficulties due to putting a two year programme into one, the panels worked well throughout."