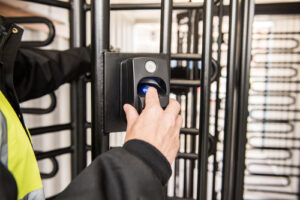 Shetland Facilities Management (SFM) Security has provided Morrison Construction with an access control system utilising fingerprint biometric recognition devices for the new Anderson High School and Halls of Residence development at Lerwick in the Shetland Islands.
As main contractor for the £56m project, Morrison's brief for SFM was for an integrated access control system during construction which could give an accurate count of the workforce in each of the site's two zones, split by company and trade discipline, for not only HSSE requirements but also emergency response, robust time and attendance recording and to capture the data and metrics required for project controls.
SFM's solution was an integrated platform that combined biometric fingerprint readers from ievo  with a Paxton Net2 access control system. Eight ievo fingerprint readers were installed on four entry turnstiles together with an ievo desktop enrolment reader for initial registering employee fingerprint templates in the site control room. SFM installed the equipment in two 20ft ISO container security portals (one for each zone of the project) which provided efficient through-put and foot-fall at peak and off-peak times.
Simon Orchard, Director of Security, Shetland Facilities Management, commented, "Logistical issues with using smart cards alongside a large workforce we always found problematic. Using ievo's biometric solution allows us to save costs whilst also improving efficiency. The devices are easy to install, robust, operational in harsh climates and working conditions."
Shaun Oakes, Managing Director of ievo added, "It was vital that the fingerprint system would maintain operational regardless of the weather conditions or the amount of users enrolled. The installation of the solution has now bedded in very effectively and Morrison Construction staff liked the ease of use for both enrolment of fingerprints, and generating accurate and reliable reports."