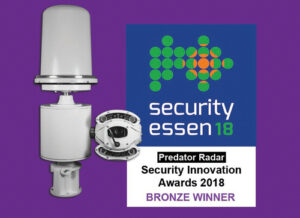 360 Vision Technology won a Bronze Award at the Security Essen 'Security Innovation Awards 2018' this week.
Out of 75 security companies entered in the categories of Technology & Products and Cyber Security/Economic Security, the twelve-strong panel of independent judges selected 360 Vision's Predator Radar camera for a Bronze Award, for innovation in the category of Technology & Products.
Under the leadership of a member of the Board of the Federal Association of Independent German Consultants and Engineers, the final 13 award submissions were evaluated according to their innovation content, user benefits, economic viability and reliability.
Predator Radar scans 360 degrees once every second to detect and track multiple objects simultaneously (with 400m of coverage) – providing effective surveillance for wide area security monitoring and intruder detection.
"Winning a Security Essen Security Innovation Bronze Award against some of the world's leading security equipment manufacturers is a great honour for us," enthused Mark Rees, Managing Director at 360 Vision Technology.
While 360 Vision Technology took the Bronze Award in the Technology & Products section it was Jansen Tore's WK5 door that won Silver with UrbanAlps taking Gold for Stealth Key.