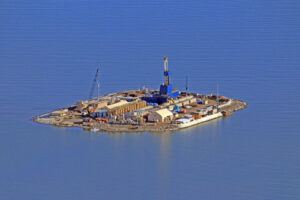 Oooguruk drill site (ODS) is an important location for Caelus Natural Resources Alaska as over 30 million barrels of oil have already been produced from the drill site since 2008. Unfortunately Alaska's North Slope region is also frequented by polar bears so an intelligent security system is being used to help spot them.
The technology has to recognise the animals as early as possible and function reliably. This entails defying the extreme conditions north of the Arctic Circle in temperatures reaching as low as minus 40 degrees Celsius and a two-month period of darkness every year. Caelus Natural Resources Alaska, is relying on a security system from Bosch.
"Our ultimate goal is the protection of personnel and the polar bears, and we want to do that in the way that has the least impact on the polar bears", explains John Hellén, Health, Safety and Environmental Manager at Caelus Natural Resources Alaska.
Bosch solved the challenge using the MIC IP fusion 9000i camera and video analytics developed for use in extreme conditions. Eleven of the cameras have already been installed on ODS; five others are at the planning stage. The Bosch-trained engineers performed the installation. The camera is fitted with a solid metal casing and Bosch starlight technology.
"Within two weeks of installing the cameras, we recorded two events of polar bears on ODS. The images were crystal clear. We even have one camera installed 100 feet/30 meters from the ground, and the resolution is shockingly good," explained Dale Hoffmann, former Land Manager for Caelus Natural Resources Alaska.
The built-in video analytics process and interpret data directly at the source. Polar bears can be detected early by the cameras thanks to their thermal imaging technology – reportedly even when the animals are swimming or are far off in the distance.
As soon as a hazard is recognised, the cameras´ tracking function is automatically triggered and personnel are notified. The necessary safety measures can therefore be put in place quickly and efficiently.
"We no longer need to rely on someone watching the cameras to see the polar bears," says John Hellén.