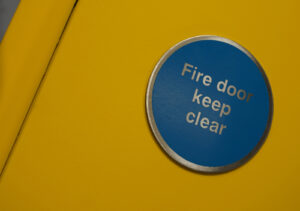 Fire door safety has become an increasingly prominent issue and Assa Abloy UK is hoping the upcoming 'Made in the Black Country' event at the House of Commons will provide a valuable opportunity to raise awareness about the importance of fire door inspections.
There are currently no legal obligations to perform maintenance inspections once a fire door has been installed so the company aims to encourage the government to consider mandatory fire door inspections and maintenance.
Brian Sofley, Managing Director at Assa Abloy Security Doors, explains: "Three million fire doors are installed every year in the UK, but incorrect specification, poor installation and a lack of maintenance is still common. Fire doors save lives, and it is absolutely critical that they are operating correctly at all times. We will be raising awareness of this important issue at this event, discussing the current challenges with MPs and considering how this can be overcome.
To raise awareness about the importance of fire door safety, Assa Abloy has established a new LinkedIn group – called 'It's Time To Talk About Fire Doors' – to provide a forum for this issue, as well as help connect followers with experts in this field for advice and support.