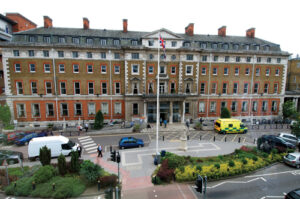 King's College Hospital in Lambeth is located in amongst the highest concentration of gang culture within the UK.  This, along with having one of the busiest Emergency Departments in Britain means that the safety of its 12,000 staff who treat around 1.5 million patients a year at the hospital, is of paramount importance.  NT Security has installed over 900 CCTV cameras since upgrading the hospital's CCTV system.  NT Security has also fitted over 1,300 access controlled doors, which are recording over 400,000 activations a day.
Ian Taylor, Head of Security at the hospital, commented on the investment: "CCTV and access control measures do not always stop crime, but they certainly assist in identifying suspects, provide evidence of wrongdoing and deter all but the most determined. The Trust has and continues to invest a large amount of capital in helping to keep the hospital safe and secure and having a very visible security team on duty 24/7 provides reassurance to the public and staff that the Trust takes their safety seriously. "
Andy Purvis, Director of NT Security commented: "Such is the size and nature of somewhere like King's College, a fully integrated and robust security offering is of the utmost importance. This is not just a case of putting a couple of extra cameras by the door. It needs to be state of the art equipment, leaving no room for complacency."
Prior to NT Security's involvement, the hospital had a variety of different systems in place, which were not up to the task due to the volume of access controls needs.  NT Security was able to provide a single solution, the ACT PRO. This solution offers a range of access controls suitable for multi sites and for sites the size of King's College Hospital.
The Enterprise software allows the system administrators to facilitate and manage the day to day operation of the system which processes more than 400,000 door actions per day.