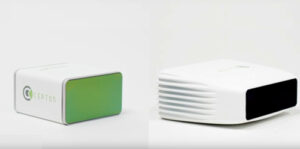 Cepton Technologies has appointed Redtree Solutions as its technical sales representative in the UK and Europe.
This announcement comes in response to the expansion of Cepton's EMEA presence in the UK and Germany in 2019. With this collaboration, Redtree Solutions will serve as an extension to Cepton's existing Marketing and Business Development teams in Europe, to expand Cepton's reach into a variety of markets and customers. Powered by the Micro Motion Technology (MMT) platform – a frictionless, mirrorless, rotation-free lidar architecture – Cepton's lidar solutions serve a range of commercial applications.
"Our lidar based solutions have applications in many industries in Europe. Combining our Vista and Sora lidar sensors with Helius perception software running on edge computing in a single package, our solutions can be integrated with a host of other devices and software to deliver a range of functions," explained Andy Nevill, Director of Customer Applications Engineering at Cepton. "We are still uncovering new and novel use cases for lidar, which is why we are so excited to announce our collaboration with Redtree Solutions. Working with the Redtree team, we can enhance our presence in the region and serve its growing demand for our lidar innovation."
Through this collaboration, Redtree Solutions will utilise its resources to support Cepton's market growth in Europe. Covering 19 countries with more than 500 active customers, Redtree will help accelerate Cepton's business penetration in the region by generating greater awareness of the company's solutions and providing on-the-ground support to expand Cepton's customer base.
Steve Judge, Redtree Solutions' Managing Director added: "We are very pleased to be working with Cepton to bring its technology to Europe. This is an agile, intelligent solution that's very easy to implement and offers significant value to customers across numerous disciplines."