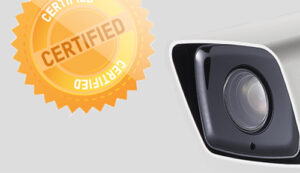 It's been a busy news week for Hikvision. Firstly, the company announced that its IP camera product series, DS-2CD3 and DS-2CD5, has achieved the certificate of Common Criteria for Information Technology Security Evaluation (abbreviated as Common Criteria or CC) with assurance type EAL2 augmented with ALC_FLR.2 (EAL2+).
As a recognised international standard (ISO/IEC 15408) in information technology security, the Common Criteria certification is mainly applicable to evaluating security and reliability of information technology products or solutions, and is also focused on the protection of private information. Government organisations or government agencies from 28 countries have participated in the Common Criteria Recognition Arrangement (CCRA), including National Information Assurance Partnership, Department of Defense of U.S. Many enterprise organisations also use CC as a requisite in relevant procurements.
"Along with the transformation into a networked and intelligent era, security industry is facing unprecedented development opportunities, but also new challenges," said Dr. Wang Bin, Chief Officer at Hikvision Network and Information Security Laboratory and Network Security Department.
As a required process to achieve Common Criteria certificate, Hikvision successfully passed the evaluation performed by Common Criteria testing laboratory Brightsight.
In another announcement, this time at the Hikvision Insight events, it was revealed that the company is to add to its current number of 13,000 R&D staff by opening a dedicated UK and Europe R&D facility at its base in Stockley Park. The new facility is expected to be in place in Q1 2019 with a combination of expertise coming in from China working alongside home-grown R&D talent. Furthermore, the development will enable an expansion of the current demo area at the site.