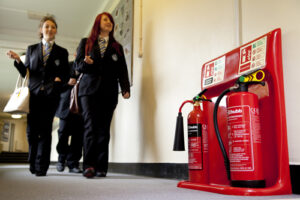 Chubb Fire & Security is making 'lockdown' technology and fire safety solution its main focus at the Schools and Academies Show 2019 (3-4 April, London Excel).
Lockdown, according to the National Counter Terror Security Office (NaCTSO), is a procedure designed to quickly restrict access and egress to all or part of a site or building through physical measures in response to threat, either external or internal.
Larger sites and higher student numbers mean these procedures have become increasingly important over recent years, with some councils across the UK insisting their schools have lockdown procedures in place. A key challenge for schools is the time it takes to communicate an emergency while also managing a situation and ensuring student safety.
Chubb's solution uses sister company, EMS's wireless technology to provide a simple, yet effective system which can be deployed quickly to provide a lockdown facility. Small, discreet wireless handsets are provided to teachers and staff, which can be connected to alarms, access control systems and gate mechanisms according to each individual site's layout and requirements. When a hand-set is triggered, a pre-determined 'cause and effect' plan is activated resulting in a series of visual and audio alarms that support school staff in their emergency lockdown procedures.
Mark Pettit, director of strategy and business development, Chubb Fire & Security, said: "There is a balance to be struck between providing the utmost in safety and providing a warm and welcoming environment. Also, security, or a lack of it can impact Ofsted ratings, and there are no hard and fast rules about what security is required, rather a solution is tailored to the specific environment.
"Fire is also a critical consideration for any school, as fires disrupt the education of thousands of children annually. A well-maintained, effective fire solution is key, and particularly popular is wireless technology that causes minimal disruption during installation."