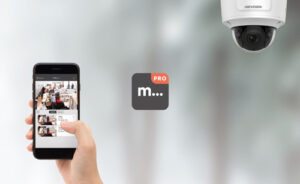 Manything Pro has worked with engineers from Hikvision to integrate its offsite cloud recording software with a range of DVRs. This advancement makes it possible for professional installers to add IP functionality to existing coax systems – giving them a new source of recurring revenue through cloud subscription plans without the need to replace cameras or cabling.
Setup is through the Manything Pro smartphone app, which is available on Apple and Android. The installer needs to enter the DVR's IP address, port number, username plus password and the app does the rest.
Once Manything Pro is installed onto the DVR, the security software detects the cameras and adds them into the app. These cameras can be viewed and controlled remotely, and their video will be sent to the secure offsite Manything Pro cloud.
Paul Gordon, sales director at Dynamic CCTV, said "DVR compatibility is a great addition to the offering; lots of our installers have asked if they can add analogue systems to the Manything Pro cloud."
The first three Hikvision DVR models which are compatible are DS-7204HUHI-K1, DS-7204HUHI-K1/P and DS-7204HUHI-K2, with more coming soon.