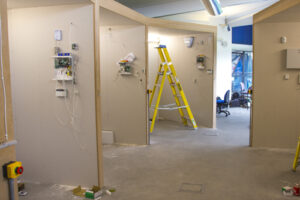 New College Lanarkshire's Kirkintilloch Campus has undergone a complete refurbishment of its existing facilities to provide a hub for its electronic fire and security offering. Previously based at Motherwell, the new facilities will allow apprentices and industry specialists from across Scotland access to equipment for training or up-skilling.
Offering a variety of courses from pre-apprenticeship programmes to modern apprenticeships, both newcomers to the industry and veterans can enhance their skills and knowledge in the sector with the help of New College Lanarkshire.
David Scott, Curriculum and Quality Leader for Built Environment and Securities at the College, said: "As the industry rapidly grows and technology continues to advance, it is essential that every practitioner stays ahead of the game in learning new skills and equipment. With the introduction of this specialist hub to our Kirkintilloch Campus, we can extend our offering to reach more of those in the industry – from those just starting out on their career, to those who may need to extend their already expansive knowledge. I am hoping that the hub will ensure success for everyone who comes through our doors."
The new facilities include a workshop which hosts seven booths for up to 14 students to work with a range of equipment to enhance their skills in installing and maintaining electronic fire and security systems. Classrooms and workspaces have also been created so the facility can host up to 28 students per day.
Courses started in the Kirkintilloch Campus in August resulting in the College now providing over 150 apprenticeships in the industry.