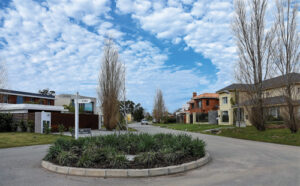 Milestone Systems open platform IP video management software (VMS), is helping the lakeside community of Carrasco Lakes in Uruguay to benefit from better security control. Previous multiple standalone systems were not efficient enough. The new networked solution allows ongoing expansions with more cameras and video analytics.
Located to the east of Uruguay's capital Montevideo, Lagos de Carrasco stretches across two islands, and is known for its houses perched on the lake shores. However, because the semi-private residential community can be freely accessed through city streets, the topic of security is of keen interest to its residents. A few years ago, as the neighbourhood began to grow, the area's residents decided to invest in updating its video surveillance.
Considering its location and conditions, with certain factors like humidity, electrical currents and the physical difficulties surrounding cable extensions, the system that was formerly installed deteriorated over time. This lead to a negative impact on the quality of the surveillance images, as well as to the stability of the system in general.
Lagos de Carrasco worked with Milestone Partner Foxsys to execute the modernisation project.
The previous system's cameras, roughly five years old, were removed and replaced with about 34 IP cameras manufactured by Hikvision and Arecont Vision. With the goal of combining each of these technologies and their new functions, Lagos de Carrasco chose the video management software XProtect Professional from Milestone Systems.