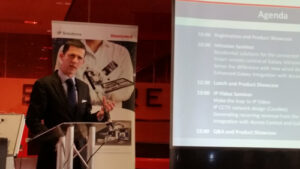 PSI was a guest at the first Honeywell Innovation and Integration Showcase event of 2015 this week. Held at the Emirates Stadium the one-day seminar gave installers and channel partners the opportunity to hear about some of the latest technology and trends. Beginning with a breakdown of the sales structure within Honeywell and details on the company's Training Calendar the talk then turned to an area that it is expected will present big opportunities for installers – connected homes.
National Account Manager Phil Matthews explained how residential security solutions for the connected home is a growth area for future business and that the Cloud and wireless intruder alarms fit the requirements of this trend. One product that the company is pitching heavily into this space is Le Sucre, a simple system that gives end users security via the smartphone. For installers this product opens the door for upselling opportunities and can help increase customer numbers. With the possibility of adding peripherals and extending SIM contracts there are, says the company, benefits for the installer in looking at this technology.
If the features of Le Sucre are of interest, but ARC monitoring is also desired then Phil explained that the Domonial system is the one to choose, and may be the option for upselling. Meeting the connected home trend head-on the company also discussed other technologies such as the Smart Plug for local and remote operation of electrical items.
This ability of remote control of security then continued with a demo of the GX Remote Control Mobile App and the need for encryption within such systems. The message from the session was very much that security fits squarely into the connected home scenario and installers that recognise this modern demand for remote tablet/smartphone access will see business growth from a new market.
The afternoon session was a look at IP video and 'making the leap' from analogue to networked security including info on fibre, switches, Ethernet extenders and PoE. Generating recurring revenue from the Cloud and integration with access control rounded off the programme.
Subsequent events will take place at Lancashire County Cricket Club (31st March) and Belfast Titanic Museum (14th May).