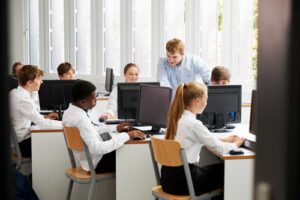 Abzorb has won a new contract to deliver an integrated network cabling system and IP security at a new secondary school development in Milton Keynes.
Working with NWP, Abzorb designed a network cabling system to facilitate the school's voice and data network, site security, building management and access control, as well as offering a flexible environment that meets the IP security needs of the school now and in the future.
The network consists of 2212 category-6 user outlets, providing ample connectivity for each student, fed from four server rooms that are connected by fibre optic cabling and house nine cabling and equipment cabinets.
The Abzorb network also controls a 27-camera CCTV system and a secure fob-controlled building access system. Integrating the entire system through the network allows better visibility across the site and improved building management controls.
Kev Hall, director at Abzorb said: "The risk landscape is rapidly evolving in the education sector, online as well as physically on-site, and providing a safe learning and working environment is at the heart of every schools' charter. Putting in place cost-effective and flexible security delivers the duty of care to staff and pupils and allows teaching staff to focus on doing their jobs."
Tim Keyes, Managing Director at NWP said: "We have been pleased to appoint Abzorb to provide the network cabling and CCTV systems for this high specification installation. Security is high on the Ofsted priority list and every school's security must be reviewed on an ongoing basis in keeping with current guidelines. School security needs change continually and must be kept under constant review."
Writing on the Milton Keynes Council website, Zoe Nolan, Cabinet Member for Children and Families at Milton Keynes Council comments, "This project is a key part of the council's continued investment in the growth of Milton Keynes and its plan to deliver; supporting improvement in our education and skills sector, ensuring a local school place for every child and a non-selective model of education."