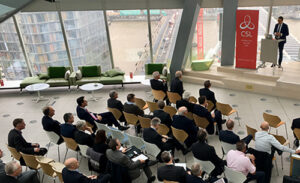 The CSL Insurers' Forum 2018 event, which includes a series of brief presentations, refreshments and a networking opportunity, will be taking place on Wednesday 14th November at IFSEC's London HQ (SE1 8BF) running between 11am and 1:30pm.
The presentation line-up will include:
Ian Moore, CEO of the FIA, who will be discussing the changes in attitudes to fire from the industry and government since Grenfell.
Richard Jenkins, Chief Executive of NSI, updating us on the inspectorate and the importance of raising standards.
Richard Solly, Head of Monitoring Services at SMS, providing an ARC's perspective on the future and new opportunities.
Chris Roberts, PR and Police Liaison Officer at Banham Group, who will be considering the latest challenges facing installers and the insurers' role.
Dan Hardy, Managing Director of NBCS, providing an insight from retailers and how we can bring everyone together to solve the latest issues and trends.
Register your attendance by following the link here