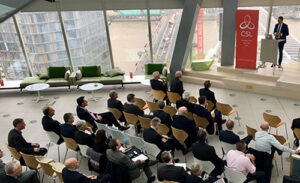 CSL has announced details of its Annual Industry Forum (formally Insurers' Forum) for 2019. This year the event will be held at IFSEC's HQ in Blackfriars, London on Wednesday 13th November 2019.
The Forum has been designed to provide a series of valuable updates, all in the space of one morning. Topics that will be covered include:  industry trends, challenges, industry collaboration, theft, PD6669, the ECHO initiative, BT ALL IP and IoT.
The event is aimed at insurers and brokers, security consultants, ARCs, installers, end users and associations. The Forum will open with refreshments at 10am, followed by presentations, a Q&A and a free buffet lunch.
To register click here