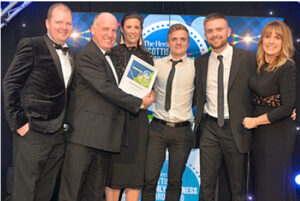 NSI Gold approved installer Connelly Security Systems (CSS) was shortlisted at the recent Scottish Family Business Awards and scooped a Commendation at the Awards Dinner held at Glasgow's Radisson Blu Hotel. CSS won the Commendation award for "Customer Service Excellence" an award sponsored by TL Dallas.
The event was also supported by Business Gateway and brought together the very cream of Scottish family businesses to enjoy a great evening.
"I would like to thank everyone at CSS who manage day in, day out to provide good service to our customers and for that to be recognised by the judging panel of seven individuals who scored our entry and thought CSS to be a worthy recipient of this award," said Paul Connelly, Managing Director, CSS.
Connelly Security Systems was the only awards finalist from the security industry at the event which saw Paul Connelly, along with members of the Connelly family, collect the Customer Service Excellence Award from presenter Carol Smillie.
As a proud family-oriented company Paul's son Callum has just delivered a new grandson Shay as the third generation to come on-board at CSS!