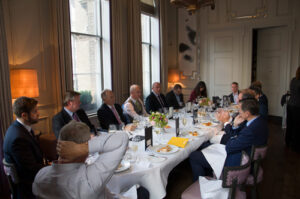 Mid-October saw Vista launch its Voice of the Customer (VoC) initiative in London. The format of the day, which PSI was lucky enough to attend, encouraged valued customers to provide open and honest feedback, discussing ways in which they thought that Vista could help them with their business challenges.
The main aim of VoC was to provide an environment where customers felt they were being listened to, rather than just being presented to, meanwhile allowing Vista to get a better understanding of the services, products and customer experience that its customers expect.
In 2017 Vista will continue the VoC initiative and hold four further events, taking on board the feedback from the launch. The wider term goal of the events is also to develop commitment from the attendees for longer term and consistent VoC engagement, so Vista can work on improving the individual journeys that each customer is taking. The next event is taking place in Manchester on the 27th October where some of Vista's Northern based customers will get the same opportunity to talk about their experiences and provide their feedback on areas where Vista can support them.
Voice of the Customer has also been set up as an online platform enabling customers to get in touch directly with a member of the team allowing Vista to provide answers to queries, and taking feedback on board to improve services, products and the customer's experience.
Gary Rowden, Divisional Director – Product Management & Business Development for Vista said: "Our customers opinions are very important to us and the better we understand their business challenges and specific needs, the more effectively we can find the right solutions and make their engagement with Vista even more valuable"
Speaking after the event PSI editor Andy Clutton commented: "It was a brave move to invite buyers and non-buyers to an event with the intention of only talking about their dealings with the company, but it seems to have worked for Vista. So often these types of gatherings are just disguised marketing ventures and product presentations, but the meeting had no commercial angle and produced a spontaneous flow of opinion that has given Vista some valuable insights and action points to take forward."