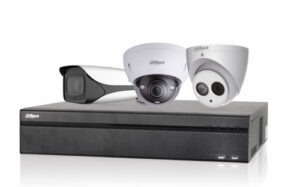 Dahua Technology has launched a range of extended Power over Ethernet (ePoE) cameras, network switches and network recorders that reportedly enable integrators to go beyond usual transmission distances.
Dahua ePoE IP products support up to 800 metres between camera and network switch or NVR. This solution overcomes the limitations of traditional Ethernet and PoE, which restrict cable runs between network ports to 100 metres. This eliminates the need for Ethernet extension units and intermediate repeater network switching.
The ePoE series has been developed from Dahua's eco-savvy 3.0 portfolio. ePoE network recorders have eight green ePoE ports that support long-distance PoE transmission. There are three models with 2/4/8 SATA ports for differing storage needs.
The ePoE network switch has four ePoE ports that provide transmission (300 metres at 100 Mbps or 800 metres at 10 Mbps/EoC) when connected with ePoE cameras. The switch supports plug and play and no additional configuration is required to achieve exceptionally long transmission distances. There is also protection against lightning strikes and surges, which avoids the need for additional equipment and costs. The switch will also work with non-ePoE cameras, offering transmission of 100 metres at 100 Mbps.