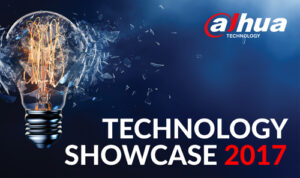 Dahua Technology UK and Ireland is giving security professionals the opportunity to experience new technology first-hand in a series of new format events.
The Technology Showcase events, to be held across the UK during October and November 2017, will consist of eight 'zones' featuring interactive, hands-on demonstrations of the company's products and systems, including artificial intelligence, thermal hybrid technology, Starlight low-light cameras, video analytics and 4K CVI.
The event is aimed at installation and maintenance engineers, systems integrators and consultants looking to further their knowledge about key technological developments in the electronic security sector.
"The Technology Showcase events are staged in a new, highly interactive format that differs considerably from your average security roadshow," explained Ben Perkins, Head of Operations, Dahua UK and Ireland. "Participants will be able to gain valuable knowledge in a relaxed but stimulating setting, and will also have the chance to win some Dahua products in our prize giveaway."
Technology on display will include:
Starlight night-time IP cameras
IP video door entry solutions
Thermal cameras including hybrid camera technology
A range of video analytics options
Artificial intelligence and deep learning
4K HDCVI co-axial transmission and XVR technology
Transmission methods including ePoE and Wi-Fi
Software (apps, tools and video management systems)
As part of the prize giveaway, at each event, someone will win a Mini Thermal Hybrid Bullet Camera worth £1,125. This camera supports HD image overlay, which combines the camera's thermal and full HD images to produce an enhanced 1080p thermal video stream.
The events will be staged in Maidenhead, Manchester, Birmingham and Scotland in October and November 2017. Participants can drop in anytime between 9.30 am and 4.00 pm and should allow up to one and a half hours if taking the whole tour of eight zones.