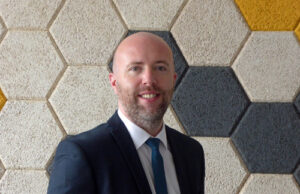 Cundall has appointed Darren Wood as Principal Security Consultant to lead its new security specialism.
With over 15 years' experience in both contracting and consulting businesses within the security industry, Darren has worked on schemes such as 22 Bishopsgate in London. He will bring valuable knowledge and expertise in developing the new security specialism.
Darren said: "Cundall's new division is a specialist Security Consultancy, providing a holistic offering to customers in order to understand the real-time security threats and risks, advise on how to mitigate them effectively, design solutions and offer advice on how to operationally manage the security of their business on a day-to-day basis."
Paul Kenyon, Building Services Partner at Cundall continues: "For many years Cundall has offered elements of security within our core disciplines of MEP and structures. With more clients considering security as a primary concern, our engineers were regularly being asked to provide a service. So, we are expanding Cundall's expertise by creating a bespoke specialism led by Darren."
Darren joins from WSP Parsons Brinckerhoff, where he was Principal Consultant – Security Consulting.