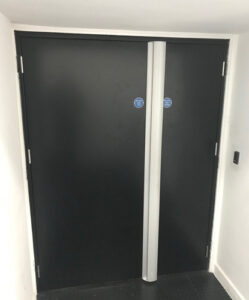 Delta Security has installed new steel, fire-rated security doors and an access control system designed to combat a series of break-ins at a commercial property managed by Property Initiatives Management.
The property, based in East-London's Shoreditch, is home to approximately ten businesses and had become the target of thefts and burglaries. An independent security survey was conducted and steel security doors were proposed as part of the solution.
Derrick Samuel, Building Manager, Property Initiatives Management, says he approached Delta Security to deliver the solution having previously worked with the company.
The fire-rated double steel doors were installed with a twin mag pull door handle. The company also installed a Paxton access control fob key system that Derrick is able to manage remotely, enabling or disabling access to the key fobs on the system as and when required.
"Delta visited the property to conduct a survey, and it was agreed that the Delta fire-rated doubled steel doors were the best solution for this site," says Derrick. "The property is now as secure as it can be."