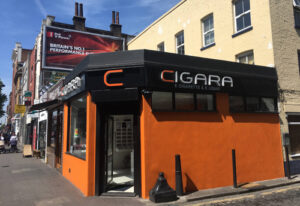 Delta Security has installed a remotely-monitored intruder alarm and access control solution to protect customers and staff at three new London stores of the e-cigarette and vape brand, Cigara.
The system features Honeywell Galaxy alarm panels which integrate with an access control system using secure (i.e. non-cloneable) fobs.
A Cigara spokesperson said: "We wanted the same system as we have in our other 15 outlets, because we know it works well. Delta had an excellent knowledge of the products and was able to install on time, and to budget. Four days before one store was due to open, an issue arose with the lock for our electric roller shutters. A number of other security firms informed me it would take two weeks to fix, but Delta came up with an alternative solution that resolved the problem in just two days."
The intruder alarm is monitored 24/7 by Custodian Monitoring Services from its alarm receiving centre (ARC) in Nottingham.