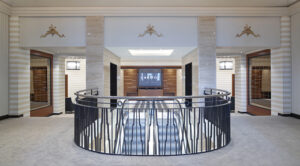 Following a refurbishment, art deco building The Capitol is now one of Aberdeen's most sought after commercial spaces and life safety products from Gent by Honeywell have been installed to protect its occupants.
When it first opened in 1933 The Capitol was a cinema, before going on to become a theatre, a bar and nightclub. Located at 431 Union Street in Aberdeen, the building was among the first of the British cinemas to be designed in the art deco style. The venue showed its final film in 1995 and in the early 2000s was converted into a nightclub, when the rear section of the building was largely remodelled.
The nightclub closed in 2009 and the building was left derelict for over four years until Knight Property Group and M&G Real Estate initiated a £30m transformation.  Galashiels based SPG Fire & Security was awarded the fire detection contract by the building services consulting engineering firm on the project, TÜV SÜD Wallace Whittle.
SPG Fire & Security specified a fire detection system based around two Gent Vigilon six loop control panels that use software to deliver a flexible system. To maintain the strong identity of the building, the panel in the reception area was supplied in a stainless steel finish.
Over 850 devices from Gent's S-Quad and S-Cubed ranges have been installed. The combination of Gent control panels and devices is particularly suitable due to the complex cause and effect strategy in place, as the building has a phased evacuation requirement. The power and length of loops were also a major factor, as well as ease of programming for the engineers, particularly since the cause and effect requirements of the job changed over the course of the project and became more intricate.
In addition to the VADs, a Gent Network 8 emergency voice communication system (EVCS) was installed in the disabled refuge areas. The EVCS system is connected directly to the WC assistance alarms and in the event that a cord is pulled, an alert is immediately activated and help will be on its way. The Network 8 system comprises of master handsets located in reception, rear entrance and the management suite, and there are 23 EVCS outstation call panels and eleven disabled WC alarm systems integrated into it.