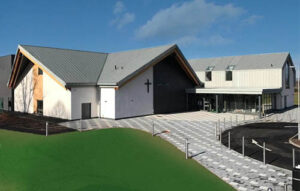 Taktis fire detection and alarm technology from Kentec Electronics has been chosen to help protect a new £4.7 million flexible use community hub development for Scotland's Dumfries Baptist Church.
The church had long outgrown the building where the congregation had met since 1873, so suitable land had to be secured and funds raised before this ambitious project could be realised.
The recently completed building, a 2,000sq/m community hub, comprises a main church hall seating around 500 and conference facilities including full catering, youth facilities plus a games hall and multi-use games area. A central full height 'Avenue' links all spaces, allowing light to flood the building, with rooms over two storeys offering flexible use of space options.
For the installation, JJ Group (Contracting) opted for an open protocol L3 system built around the features of the new Taktis Technology Platform, and comprising a Taktis two loop fire control panel connected to a range of Apollo addressable loop powered devices including multi sensor detectors, sounders and beacons.