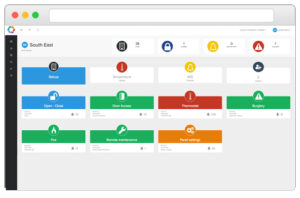 CONXTD Technologies, developers of digital intelligence solutions for home, small business and enterprise risk management applications, has officially been launched.
Through years of experience working within the security industry, the CONXTD team, led by former WebWayOne CEO Chris Carter Brennan, has identified that installers and end users need real-time information from alarm panels and other applications in order to triage sites and identify risk earlier.
"We're delighted to launch CONXTD Technologies," says Chris Carter Brennan, CEO." We have a great team which has developed the solution over several years at WebWay."
CONXTD compliments ARC services, removing the technical language barriers for end users, using icons, colours, timelines and graphs. The solution integrates to intruder and fire systems, industrial IoT solutions and smart home products.
"It gives installers better situation visibility, ultimately reducing false alarms for ARCs," continues Chris. "WebWayOne is a brilliant company, run by a talented and committed team. I'm proud of everything we achieved together, and excited that CONXTD has it as a channel partner.
"We're engaging signalling providers, installers, ARCs and other IoT service providers to offer CONXTD to end users. We're delighted that WebWay, CSL and Emizon are our first Technology Partners and they have an excellent track record in delivering valued solutions to the supply chain. We'll be working with our partners to deliver product as well as professional services.
"Conversations with installers and security managers have shown that they can spend hours or days analysing data, a huge drain on resource, motivation and costs. Existing business systems just can't keep up with the decision making process. CONXTD does the heavy lifting, and delivers all the information users need simply, visually and on any mobile or browser platform."