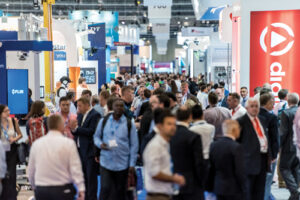 IFSEC International and Tavcom Training have revealed that The Future Of Security Seminar Theatre, sponsored by Panasonic UK, will be within the 2018 exhibition to deliver a range of CPD accredited presentations on the latest in security technology design and integration.
Physical security systems are now heavily dependent on IT-based platforms and this intersection of technologies has opened up significant potential for security installers and engineers to offer even better solutions for their customers. To reflect this demand, The Future Of Security Theatre will focus on these opportunities offering a free seminars, designed with installers in mind. The sessions will target key areas such as cyber security, IT best practice, practical IP networking, integration and system design plus a range of additional core areas, delivered by Tavcom trainers.
The Future of Security Theatre will be a major element in the new 'Show Me How' project at IFSEC 2018, which will identify education opportunities and exhibiting companies as key destinations where visitors can go to learn about best practice and capabilities. Exhibitors will host technical experts on their stands to ensure visitors gain a direct understanding of the products and solutions – making sure they leave fully equipped with the right knowledge. All 'Show Me How' areas and exhibitors will be clearly signposted to help visitors make the best possible use of their time at IFSEC 2018.
Paul Tennent, Sales Director at Tavcom Training states: ''Tavcom is excited to be part of the new position IFSEC is taking as a major education opportunity. It's been interesting to see the insights and research IFSEC has gained over the past year, particularly in regard to the expectations and direct needs of the installer community. It's also acutely apparent that growth areas and technologies in and around cyber security are becoming critical, so we're happy to lend our expertise to the wider IFSEC audience.''
Gerry Dunphy, Brand Director for IFSEC states: ''We've been through an extensive research programme over the past twelve months, which has provided IFSEC with a clear set of directions, matching the direct needs of our customers. They've told us they have a need to understand the future, they need guidance on areas such as how cyber security impacts on physical systems and they need to hear from specialists they can trust. Working with Tavcom Training on The Future Of Security Theatre is the perfect solution. Our customers have told us what's keeping them awake at night and it's IFSEC's duty to help them rest more comfortably!''
For more on the Show Me How project at IFSEC see the March 2018 edition of PSI magazine