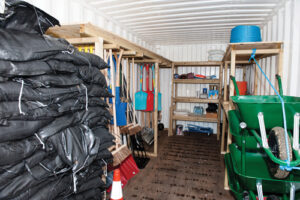 The Key Safe Company has provided the flood hit town of Mytholmroyd with a donation of key safes ensuring the entire community has immediate access to vital flood defence equipment whenever needed.
Incidents of flooding across the UK are becoming all too familiar, a story the residents of Mytholmroyd, part of the borough of Calderdale in West Yorkshire, know only too well. The village has experienced increasingly regular episodes of flooding.
As a consequence, the village has built up a dedicated group of local volunteers who make up the Mytholmroyd flood wardens undertaking the role of the eyes and ears of the community. During flood warnings, it had been the responsibility of the three wardens with access to keys to enable residents to gain entry to rapid response containers, located at four locations around the village; containing sandbags and cleaning equipment.
The speed and extent of the recent flooding meant the group were needed in more areas than they could physically cover, added to this, the group's efforts were hampered by intermittent phone coverage resulting in one of the flood wardens being uncontactable. As a consequence, it was decided that the group needed to rethink logistics in regards to access.
Speaking about the reasons for exploring the use of key safes, flood warden Tim Weston-Foulds commented, "The rapid response containers are an essential asset to the community, however during the flash floods of November and the inability to access one of the boxes, it became clear that there was no back-up plan in the event that one of the key holders was unavailable.
"As someone who was already familiar with key safe products it seemed like the perfect solution. The donation from The Key Safe Company of its key safes will now ensure all residents have access to equipment whenever needed, providing much needed peace of mind.
"While there is still much work to be done in terms of improving infrastructure and flood defences, it is reassuring to know that in the interim we have additional tools in place to help to ensure the community is as prepared as it possibly can be against such incidents."