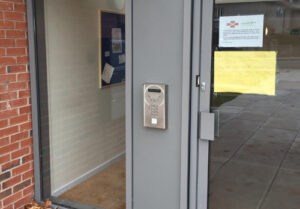 Residents of a small local housing association in the Wirral are being protected by a door entry system from Intratone.
Wirral Methodist Housing Association (HA) completed works on a residential block of 24 flats over three storeys two years ago, but in more recent times the accommodation has been upgraded to cater specifically for less mobile residents. Soon after moving into the apartments, electricians were regularly being called to site to relocate the existing fixed door entry handsets.
Local access control installer Maintec was tasked with trying to establish a more cost-effective and time efficient solution that was easy for the elderly residents to use.
On that basis, Steve Cranshaw, Managing Director of Maintec, specified Intratone's Visio 3G door entry system. Each of the residents is given their own fob which allows them easy access; for visitors, the system calls the house phone via GSM, and if no-one answers it then rings a second designated number, normally a mobile phone. Residents simply have to press the hash key on their device to allow entry.
David Corran, Head of Asset Management at Wirral Methodist Housing Association says: "The installation was very straight forward – it only took about half a day. We tailored the settings slightly to each resident's requirements – in one flat, for example, it is set to ring the house phone twice instead of a mobile."
"There was a short learning curve while residents got used to the new system, and now everyone is much happier and feels far more secure and accessible," Steve Cranshaw adds.