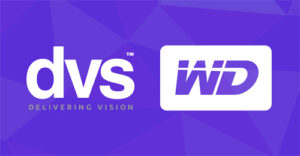 Distributor DVS has moved to WD Purple hard drives for all of its digital video recorders.
Scott Douglas, Sales Director at DVS said: "The move to installing WD Purple hard drives in our recording solutions demonstrates a commitment to ensuring our customers have the best possible products to service their security needs. As the expansion of 4K recording continues, the requirement for high-res-ready storage media will only increase."
Jermaine Campbell, Senior Sales Manager Western Digital: "We're very excited to be working with DVS on this initiative. I look forward to this new partnership with DVS."
DVS has begun WD Purple integration with immediate effect. Every recording solution sold by DVS will also have a "WD Purple Inside" sticker on the unit.
To celebrate the new partnership, WD and DVS are giving installers the chance to win a new iPhone X. To win, register your details here