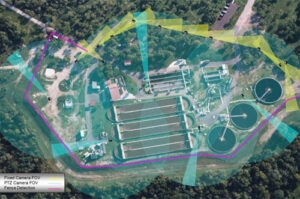 PureTech Systems has compiled a White Paper covering the eight things to consider when designing a camera perimeter.
Protecting critical facilities and their resources against intrusion and misuse of materials is a critical role consultants and security integrators deal with every day.  Remembering a few key things can go a long ways in ensuring the implementation of your camera security meets your objectives. The paper presents eight things to consider as you begin to roll out your new camera-based security measures, or review your existing ones.
Topics covered include understanding cameras, terrain, future-proofing, blind zones, night surveillance, layouts and more.
The paper concludes: at first glance, the idea of using cameras to protect a perimeter, facility or other asset seems pretty easy. It's something that integrators and security consultants do all the time. However, it is important to take the time to reflect on the fundamentals and reconsider the many details and aspects that can impact the effectiveness of the final design.
Download the free White Paper here