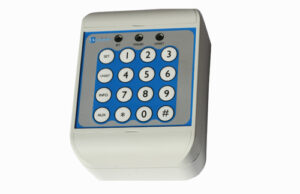 Luminite Electronics has announced the re-launch of its latest wireless keypad offering installers a flexible and secure means of remotely setting and un-setting an alarm system.
Designed to work with Luminite's Genesis range of PIR detectors, the new keypad (LGKSQ) is waterproof to IP66 and has a radio range of up to 300m so is suitable for entry / exit points on a construction site, for example.
A Genesis IP masthead (LGIPMT434) is required in order for the keypad to operate. Each unit is supplied with a simple plug in module to allow installers to use the keypad in conjunction with Genesis IP mastheads. Alternatively the keypad will work with Luminite's Relay Control Unit over RS232.  Users can also incorporate the keypad to third party alarm systems with the SDK IP integration.
The keypad is fully encrypted and up to eight PIN number and user names can be assigned and stored.  Existing Genesis IP installations can be upgraded to take advantage of the new keypad.