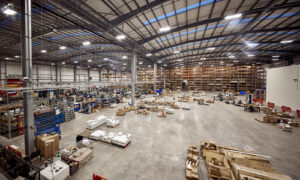 ERA has officially moved to new purpose-built premises located on the i54 business park just outside Wolverhampton. The 135,625 sq ft new facility brings together three existing facilities in the West Midlands and provides ERA with the platform for future success in the design, development, manufacture and distribution of home security products.
Darren Waters, CEO at ERA said, "Our new home is a great fit with our long-term business strategy and will help to differentiate our brand, both as an innovative supplier and as a responsible employer."
The new site is home to research and product development, manufacturing and warehousing of around 7000 products, as well as UKAS accredited test and training facilities.