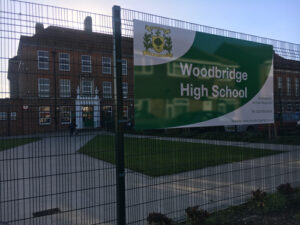 Delta Security has helped Essex-based Woodbridge High School to further enhance the safety of its pupils and staff, with the installation of new swing gates that automatically close and restrict access in the event of a lockdown situation.
Lockdown, according to the National Counter Terror Security Office (NaCTSO), is a procedure designed to quickly restrict access and egress to a site or building (or part of) through physical measures in response to threat, either external or internal.
The system is designed so that the gates, situated at the school's entrance, integrate with the existing access control and fob system. This enables school staff and visitors to access the site, but can be overridden and shut down by authorised school personnel if site lockdown is required. Lockdown is activated through a button situated in the school's reception, at which point an alarm is also raised.
Redbridge council has asked that all schools in the area put lockdown systems in place, and Woodbridge High School is one of the first in the area to have mobilised its system. The gates are fitted with CAME Stylo automation featuring a 24V self-locking motor.
Frank Gordon, School Business Manager at Woodbridge High School, says in today's climate security in schools in paramount: "No one enters the school without authorisation at the perimeter, and registration at reception. Each year we build further layers of security, and in today's climate it is especially important to ensure our perimeter is as secure as possible," he explains.
Dave Mundy, Operations Director at Delta Security, says lockdown procedures are becoming increasingly prevalent in schools: "We have seen increased interest from central London schools, especially around transport hubs such as St Pancras and Liverpool Street for a while now, and more recently in schools further out from the City centre."