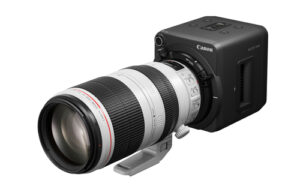 Canon Europe has announced the launch of the ME20F-SHN, a low light network camera for critical surveillance operations, featuring built-in video analytics into a lightweight and compact body.
Equipped with a 2.26MP full frame 35mm CMOS sensor and DIGIC DV 4 processor, the ME20F-SHN is designed to deliver full HD colour video in extremely low light conditions. The sensor's pixels and readout circuitry use Canon's proprietary technologies to achieve both reduced noise and high sensitivity. With a maximum ISO in excess of 4 million (+75db), which delivers low-light sensitivity, the ME20F-SHN can reportedly capture subjects illuminated with less than 0.0005 lux. Even greater detail can be captured in low-light environments by removing the IR cut filter when shooting in infrared mode.
The camera offers Canon Log and Wide DR from the Custom Picture menu, which enables a wide dynamic range of up to 12 Stops (800%), delivering images across a range of lighting scenarios. The Custom Picture menu has been upgraded, with the addition of the Crisp Img function, which obtains images in well-lit environments and low noise image under low light conditions.
Furthermore, featuring Ethernet, 3G/HD-SDI and HDMI ports, the ME20F-SHN caters for video outputs based on users' application requirements. The unit is compatible with a range of lenses from across the Canon line-up, including zooms, primes and selected Cine Servo lenses. With PoE+ support, the data transmission via Ethernet and power supply are provided with a single LAN cable, which facilitates simple and rapid installation of the camera.