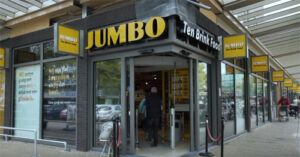 Panasonic's facial recognition technology has helped Jumbo Ten Brink Food to win an award for the "safest store in the Netherlands".
Jumbo Ten Brink Food introduced the face server into their store environment in March 2017 after discovering that almost 80% of shoplifting took place via large shopping bags. Since then, Jumbo has installed 80 Panasonic cameras in-store, helping them to win the award.
Panasonic's face server uses deep learning technology which, says the company, maximises the performance of the core engine to achieve accurate and reliable recognition. The technology identifies faces that are ordinarily difficult to recognise, such as those taken from an angle of up to 45 degrees to the left or right or 30 degrees up or down. It also claims a 90% accuracy rate when detecting faces that are partially hidden by sunglasses or face masks.
If people are caught stealing, their image remains on the database. The face server provides a real-time processing capacity of up to 20 cameras per server and can execute searches of up to 30,000 registered reference faces. With this accuracy, security protection is enhanced and the system allows matches even when images are ten years old.
"The moment that a known shoplifter attempts to re-enter the store, an internal alarm is triggered, and we can take the best suitable action," explains Edwin ten Brink, founder of Jumbo Ten Brink Food stores. "Thanks to the Panasonic face matching server, Jumbo has been proclaimed the safest store in the Netherlands."
Karen Sangha, Panasonic's Security Solutions Regional Marketing Manager says, "We are pleased to see that our customers are winning awards as a result of implementing our technology."
Watch a video about the installation here