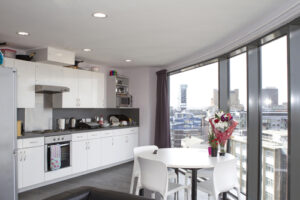 Eaton has delivered a fire alarm system to protect students at a university accommodation development in Liverpool. The company supported EFT Systems in providing equipment for Ablett House, named after the late Liverpool and Everton footballer Gary Ablett.
Completed in a year, the bespoke 12-storey, 396-bed building has been designed to provide students in Liverpool with a relaxing environment in which to live, study and unwind. The accommodation offers students a choice of three to seven-bed apartments. Mindful of the disruption and cost implications that arise from frequent false alarms in student accommodation, The Student Housing Company specified a bespoke fire alarm solution with a range of cause-and-effect programming to ensure fast and accurate detection of a suspected fire.
"Students often fall foul of the fire alarm system due to creating nuisance or unwanted alarms. It is a challenging environment for fire systems but the Eaton system has performed flawlessly," said Alasdair Croft, EFT System's Project Manager. "What was unique about Ablett House was that it presented a very complicated cause and effect scenario. We had confidence in the product and received on-site training from Eaton to help us with the programming."
In order to meet the project's detection and alarm requirements, EFT installed four of Eaton's CF3000 addressable control panels throughout the student accommodation.
Mike Slater, sales account manager at Eaton said: "The installation needed to be completed fairly quickly so we provided design, programming and system support to assist delivery within the tight timescale."
Unlike conventional panels, addressable control panels can pinpoint the particular detection device that has been activated, thereby speeding up the process of determining the source of the outbreak. This is viewed as being particularly important in a challenging environment such as student accommodation, where false alarms are common.
To help minimise additional cost implications for the owner or manager of a building, the CF3000 panels use soft addressing to decrease installation time and reduce the potential for error associated with manual addressing.